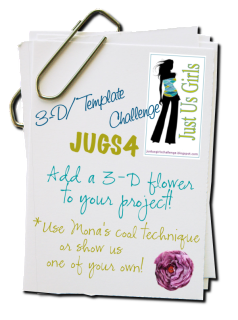 Hi everyone! Are you ready for a cool 3-D project from Just Us Girls? Mona has a fantastic video to share with you on the JUGs blog showing you how to create these fabulous tissue paper flowers! Here is what I came up with for this challenge.

I used Lauren Meader's My Timeless Template called Get a Handle on It to display my flowers. I started making the tissue paper flowers in Melon Mambo according to Mona's instructions, however I only used three layers instead of four. I wanted mine smaller in size. I attached them with So Saffron brads. I added leaves punched with a Martha Stewart frond punch in Certainly Celery. The base of the box is Melon Mambo and the dp is Razzleberry Lemonade by SU. After it was all pulled together, I added my beloved star dust stickles to the flowers, brads, and leaves. I HAD to have some sparkle on my flowers! LOL!!

You should stop by the JUGs girls' blogs to see what they did with Mona's flowers. Here are the links to their blogs.

Dana Gustafson
Kristin Bueter
Maria Levine
Mona Pendleton
Pam Imholz
Tracey Cuccia
Now you need to stop by the Just Us Girls blog and watch the great video tutorial that Mona created. We'd love for you to try this technique and put it on a card/project. Link your direct post to the JUGs blog, and if you upload to an online gallery use the code JUGS4 so we can find it. We can't wait to see what you've done! Thanks for stopping in today and have a great weekend!